All About Just So Balloons
Just So Balloons is a small business run by Sabina McGregor in Bristol, UK. It has been a small, family run business for 23 years and specialises in providing high quality helium and air filled balloons in North Bristol.

History Of Just So Balloons
Just So Balloons Balloons started as a favour to a friend! One of Kate and John Taylor's friends was let down by a balloon company so John decided to "get on with it" and supplied them with the balloons for their birthday celebration.
Word spread, orders kept coming in and it became clear their house wasn't big enough to run a successful business. Just-So Balloons opened a shop in the High Street of Westbury-On-Trym in the year 2000.
The business grew and John and Kate employed additional staff on Saturdays to help cover the peek times. John started to take an interest in printed napkins as well as providing chair covers for wedding and this worked well with the balloons. The little balloon shop became well known to hotels for weddings.
In 2007 they decided it was time for a holiday and a good reason to take on a permanent member of staff….Sabina!
Sabina worked only as a part time employee, just a few days a week, but soon became an important member of the team. She increased her working hours when her son started school and her hobby became a career.
As the business grew, Amy Taylor joined her parents and with further success a limited company was formed. The new name of the company was Just-So Occasions, including Just-So Balloons, Just-So Napkins and Just-So Chair Covers.
The business grew very fast and in 2010 the tiny shop in Westbury was just too small. We made a very brave move, with the recession in full swing…..to Henleaze High Street!
Business flourished and Sabina increased her working hours again to now 4 days a week while Kate took on more of a consultancy role. Kate was the one who always had the great ideas for window displays and had the right hunch when it came to decorating the shop. A difficult decision was made in 2014! Just so Occasions went up for sale due to retirement. John and Kate wanted to do other things and it was time to let go!
Amy was offered an amazing job within the balloon industry which was just perfect for her personality and skills.
Despite much interest, potential buyers were unable to finalise a lease agreement. As John and Kate had given notice to terminate their lease, they sadly had to vacate their shop. After working 9 years for Kate and John and learning all their skills, Sabina took the business back to where it started: from home! Dedicated to provide the same level of quality and service Sabina takes orders via Facebook, phone and emails and goes out of her way to help customers.
Timeline
1999 John and Kate form Just-So Balloons
2000 Just-So Balloons sets up in Westbury-On-Trym High Street
2007 Sabina joins the Just-So Balloons Family
2010 Just-So Balloons moves to Henleaze high street
2014 Kate and John decide to retire
2016 Q1 Sabina takes over Just-So Balloons
2016 Q4 Sabina takes online orders through facebook as well as over the phone and email
11 12 2023 You read through the history of Just-So Balloons!
---
Images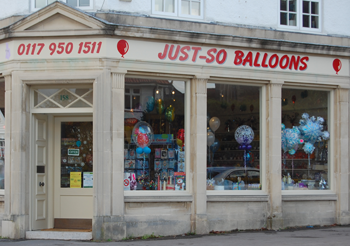 Shop In Henleaze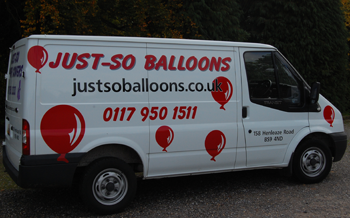 The Van
---
Technical Information
Release: XXX-RELEASENAME-XXX, (XXX-VERSION-XXX)